Get to Know Ridge Hill Memorial Park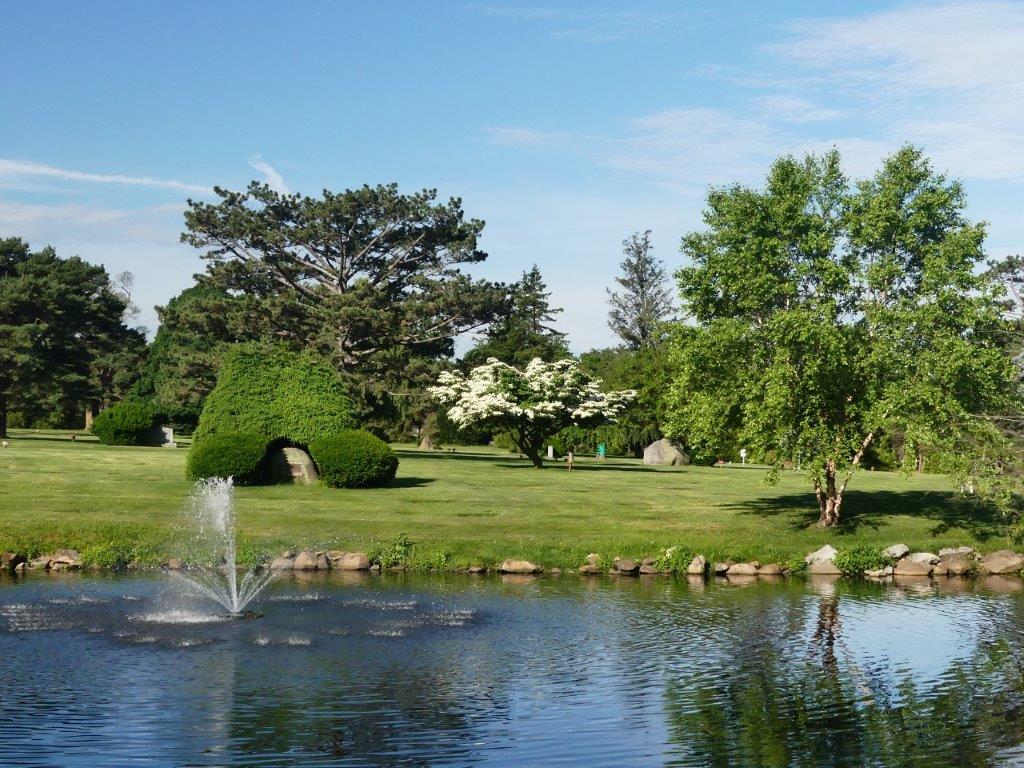 Have you ever visited Ridge Hill Memorial Park? We're located at the intersection of North Ridge, Cooper Foster, and Oberlin roads in Amherst. You probably know us as one of several cemeteries in the area. If you use Facebook, you're probably getting to know us as the biggest advocates of pre-planning around (20% off spaces this month, by the way). But there's a lot more to Ridge Hill than that! For the history buffs reading this, here's a little more about us.
Ridge Hill Memorial Park was founded in 1929 by Charles Yeager, a local entrepreneur. His final resting place is here, you can find it on the point of Section D. Marked with a boulder and bronze plaque, the area commemorates our founder, his wife Chloe, and their daughter Ruth. Ridge Hill consists of approximately 100 acres of former farmland. The previous office building, which was replaced by our current building in 2012, was the old farmhouse.
It wasn't easy to convert a farm into the memorial park that you see today, especially with 1920's technology. The land was meticulously terraformed, and the lakes laboriously dredged. In fact, many of the early lot owners paid for their cemetery property with their labor. We maintain the original records going all the way back to that time, and in 1929 it took quite a few man hours to pay off a $10 cemetery plot! You can see several photographs from these early days hanging in our office building.
As Mr. Yeager neared retirement age, there came the question of Ridge Hill's legacy. Rather than sell the property, he and his partners decided to form the Ridge Hill Memorial Park Association. Because of this, Ridge Hill remains an association of lot owners to this day. We are not owned by any one person or corporation. We are a non-profit entity, managed by a board of directors elected from and by the lot owners. Everyone who owns even a single space or niche within Ridge Hill has a right to vote in board elections and have their voices heard at our annual meeting. This structure ensures that Ridge Hill Memorial Park will forever be cared for by people who are personally invested in its success, and that no one person holds absolute authority. With over ten thousand property owners, it also means that Ridge Hill isn't just part of the local community, we are the local community.
Initially, Ridge Hill Memorial Park consisted of just the front few sections. Over the decades more and more land was developed into the expanse that exists now. The carillon tower was added in the 1970's. Funded by donations from property owners, it led to us becoming known as the Cemetery of the Chimes. Just this year we completed an overhaul of the carillon and updated the computer controlling it, and now we can play thousands of different tunes in a variety of instruments. We can even play a 21-gun salute for military funerals.
The carillon tower isn't the only thing that has been improved over the years. We have several fountains in our lakes, and a beautiful three-column fountain in Section X. You'll also find our Veteran Section in Section X, which is denoted with impressive columns and statuary honoring our servicemen and servicewomen. Those who appreciate military history will enjoy the decommissioned artillery gun near our main entrance. In Section Y you'll find an impressive sculpture of the Last Supper, and Section J hosts a Masonic Lodge in stone. Section Z is home to a large cross sculpture and there's a beautiful angel in Section L, among other statuary throughout the park.
Since the very beginning Ridge Hill Memorial Park has been primarily concerned with serving the members of our community in their time of need. That's why we do not charge a penny for infants to be interred here. In the event of such a tragic loss, we provide a space and memorial marker free of charge. We also strive to keep all of our pricing fair and reasonable, with full transparency.
In order to maintain the park, we employ a full-time staff of professional groundskeepers. It tends to turn into a long-term career, with several of them serving many decades with us. In the summertime our crew is supplemented with seasonal staff, and we are proud to be able to offer seasonal positions to the young people of our community. Our office staff is equally dedicated, and no question or concern is too complicated for us to handle. Of particular note, we recently hired a new staff member specifically to trim around individual memorial markers. Although the upkeep of markers is technically the responsibility of the purchaser, we are pleased to offer trimming and other maintenance free of charge. We can't be everywhere at once though, so we encourage you to notify our office anytime maintenance is needed. We respond to work orders in a very timely manner.
If you have family interred at Ridge Hill and are interested in genealogy, we're here to help. We have many records dating back nearly 100 years, and those include obituaries clipped from newspapers. Many people have visited our office over the years and found out about relatives they didn't even know they had. You can also find several famous graves within Ridge Hill. These include William Knox Schroeder, a victim of the Kent State tragedy in 1970, and Henry Cooke "Irish" McIlveen, an MLB outfielder active in the early 1900's. A monument in Section O pays tribute to Helen Steiner Rice, a well-known poet and Lorain native.
At Ridge Hill, we believe that everyone has the right to access affordable pre-planning for final arrangements. That's why we offer 0% financing plans with low down payments and no credit pull. We have established trusts to ensure all pre-planning is handled correctly and we work with an independent state auditor to hold ourselves accountable. Pre-planning locks in the current prices in perpetuity, eliminating the financial and emotional burden for those left behind. It also protects assets for those on Medicaid and preserves life insurance for the family. Most importantly, pre-planning gives you peace of mind that everything is taken care of.
If you want to find out more about Ridge Hill Memorial Park, our history, or pre-planning and the services that we offer, please contact us anytime. We can be reached by phone at 440-233-5113, visited at 44805 N. Ridge Rd. in Amherst, or found online at www.ridgehillmp.org. We're also active on Facebook and Google.
Related Posts
Hello, my name is Gavin Baker, I'm the manager at Ridge Hill Memorial Park. I want to talk a [...]

Does this sound like you… "I know I should pre-plan with a cemetery, I know it makes it easier [...]